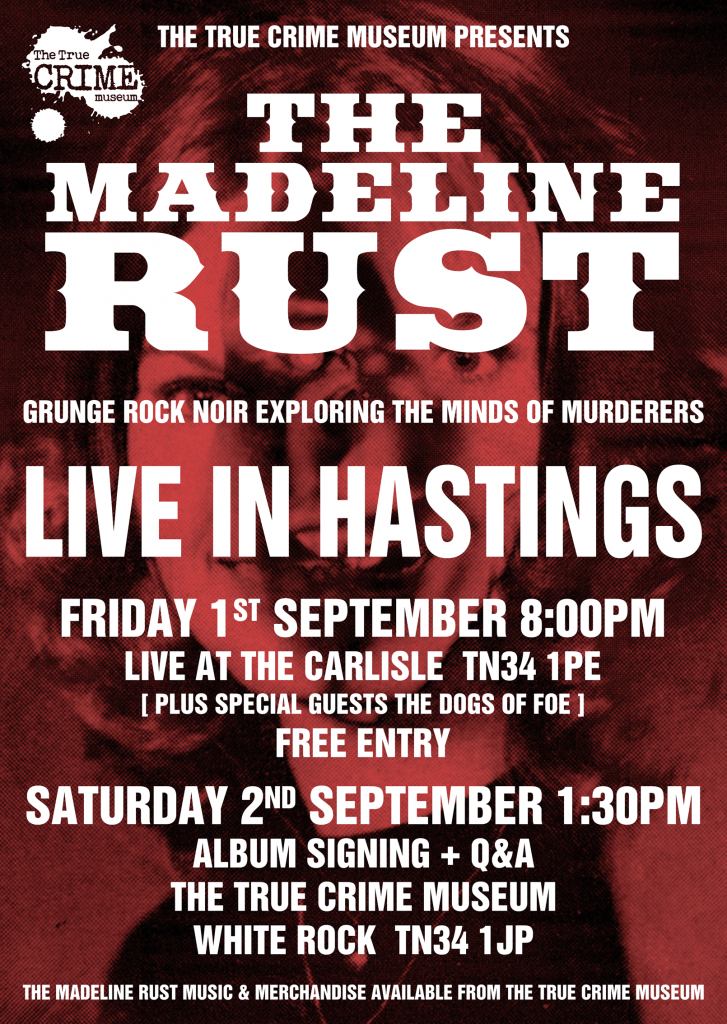 The True CRIME Museum presents: THE MADELINE RUST
Lyrics inspired by a fascination with serial killers!….
We are really excited to announce that Nottingham-based grunge rock noir band The Madeline Rust will be playing in Hastings this September!
The Madeline Rust's new album, 21 Girls takes inspiration from the writing of criminal psychologists and profilers, and real-life accounts of violence and murder from the memories of both victims and perpetrators, 21 Girls is a journey into the mind of one man, and the twenty one women that come to know him!
To celebrate the release of 21 Girls, The True Crime Museum will be hosting an exclusive weekend with The Madeline Rust, including a FREE live performance at The Carlisle on Friday 1st September, and a record signing and Q&A at the Museum on Saturday 2nd September 2017.
Band merchandise will be available to purchase at the gig, along with a limited amount of FREE tickets to The True CRIME Museum
Event Information:
Friday 1st September 8pm, The Carlisle Pub Hastings, TN34 1PE, 'The Madeline Rust' Gig including special guests 'Dogs of Foe' – FREE ENTRY!
Saturday 2nd September 1:30pm, The True CRIME Museum, TN34 1JP, Meet 'The Madeline Rust' Album signing plus Q&A! – £7.50 (or grab a limited FREE ticket from the GIG!)
Let us know you're coming on our Facebook Event: https://www.facebook.com/events/248801985640389/ 
The Madeline Rust: http://www.themadelinerust.co.uk/
Dogs of Foe: https://www.facebook.com/thedogsoffoe/
The Carlisle: http://www.thecarlislehastings.com/